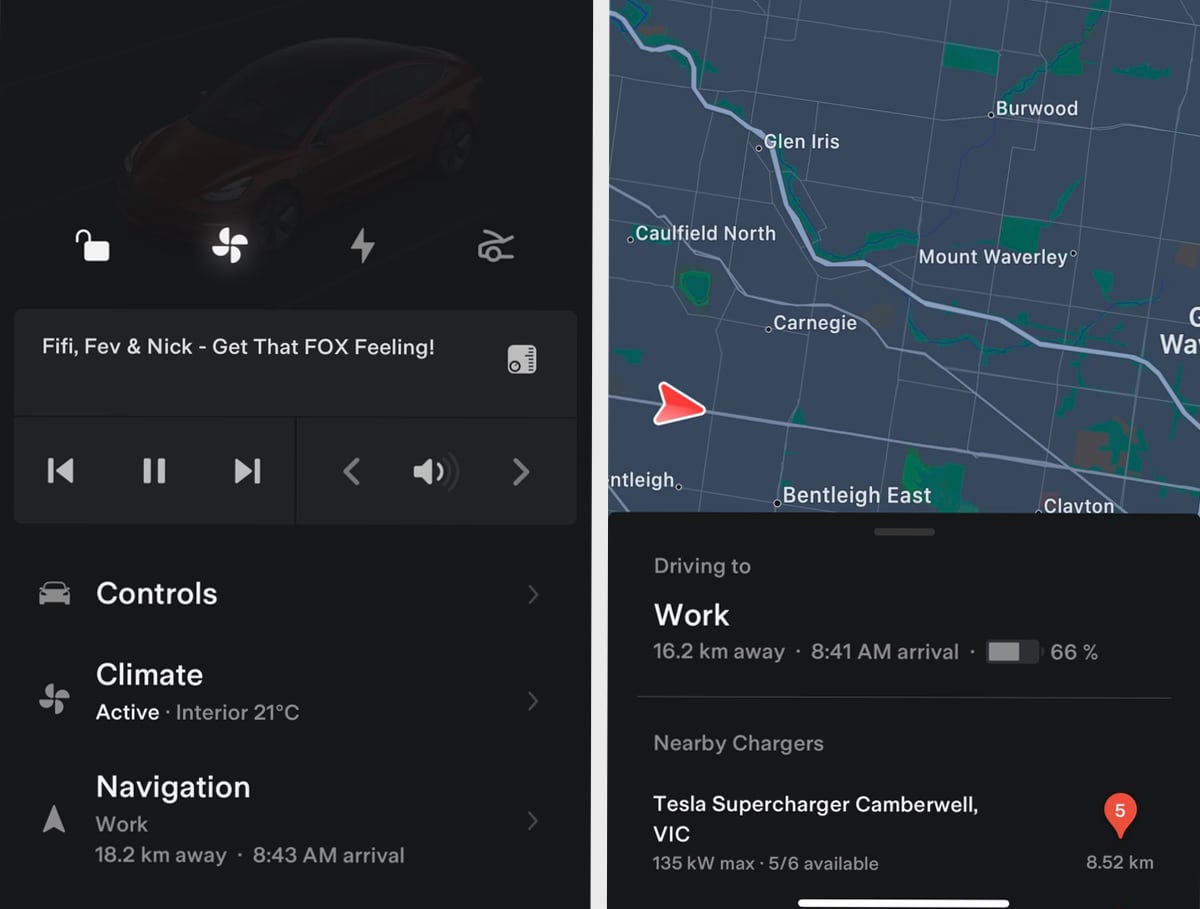 Tesla's mobile app now shows song information and destination details
Tesla has now started rolling out update 2022.36.1 (release notes). With this update, Tesla's mobile app will now show users additional information about media currently playing in the vehicle, such as song title, artist, and destination information.
The automaker has rolled out a number of improvements to its mobile app over the past few months, including the ability to order a vehicle directly within the app. Earlier last month, an app update suggested that Tesla would add motorized frunk to its vehicles.
This has not been confirmed by CEO Elon Musk or Tesla. Many owners have taken it upon themselves to add aftermarket parts to motorize the front trunk.
Song details
With Tesla's latest update to their mobile app, owners will now be able to see a song's title, artist name, as well as volume levels, pause/play, as well as forward and the back.
Song details will be displayed directly above the pause/play buttons that were previously displayed.
Destination
Additionally, if the driver uses GPS to navigate to a specific location, the mobile app will display details about their destination.
This information will be displayed in the "Location" section of the application. When GPS is used, the location section will be renamed Navigation and will display the destination, distance and driver's ETA directly on the main app screen.
If you tap on the Navigation section, you'll be greeted with a map with the location of the vehicle and nearby Superchargers as before, but you'll also see details of the vehicle's destination.
In addition to displaying the vehicle's set destination and ETA, the app will also display the car's expected state of charge upon arrival.
This information is useful because it provides additional transparency to owners about their vehicles' battery consumption and how they are being used. Tesla is also rolling out updates that include major revisions to its in-vehicle Energy app.
These improvements include the state of charge of the battery on departure and arrival and the main causes of battery drain.
For example, if it is very hot outside and your air conditioning is set to a low temperature and the fans are blowing on 10, the vehicle will display the energy consumption of your air conditioning. The Energy app will also show driving, battery conditioning, elevation, and "everything else" like mobile device charging, trip computers, lights, sound system, and more.
As we continue to see big updates to the full self-driving beta, we're sure to see more improvements to the mobile app as they continue to add useful new features to the vehicle. .
These new features require Tesla app version 4.13 or later and Tesla update 2022.36.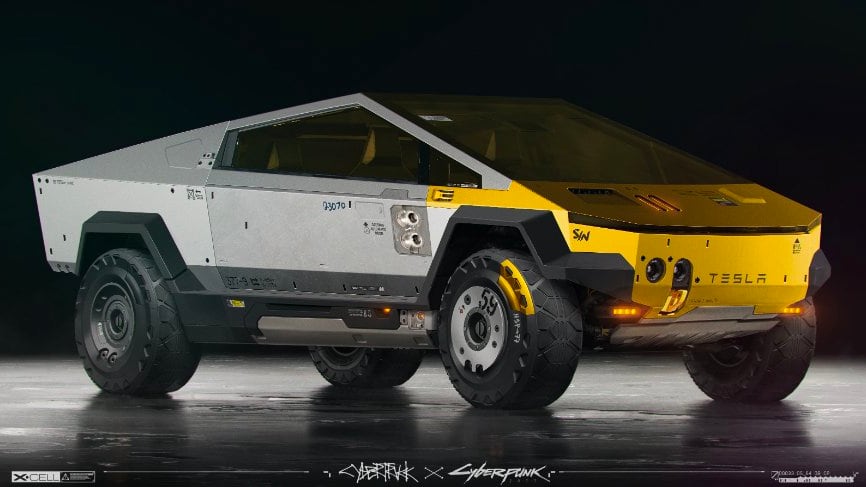 Cybertruck deliveries will begin next year, but if you can't wait that long, you might want to head to Night City. Cyberpunk 2077 has teased that the highly anticipated real-world vehicle could appear in the popular video game. But, as if that weren't enough, Elon Musk announced another exciting and unique feature for the futuristic-looking truck: it will be waterproof.
Let's start with the floating Cybertruck, which should shock no one after the CEO of Tesla. He bought the Lotus Esprit that James Bond used to jump off a pier and turn into a submarine in The Spy Who Loved Me. He bought the movie prop for just under $1 million in 2013 and told USA Today, "I was disappointed to learn that he can't actually transform. What I'm going to do is upgrade him to a Tesla electric powertrain and try to get him to transform for real."
In 2016 he tweeted that the Model S "floats well enough to be a boat," but he didn't recommend trying it. Now he claimed the Cybertruck could be used as a boat – briefly. Musk tweeted: The Cybertruck will be waterproof enough to serve briefly as a boat, so that it can cross rivers, lakes and even seas that are not too rough.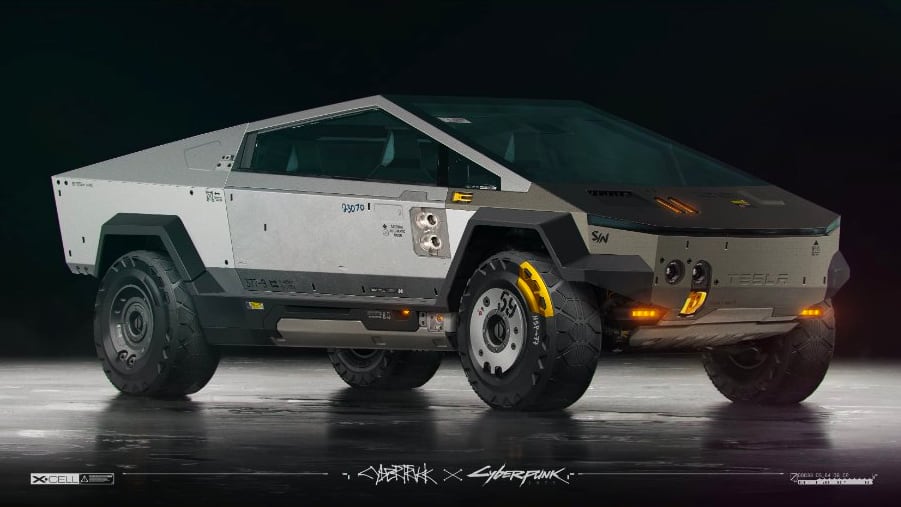 In a subsequent tweet, he gave an idea of ​​the distance he had in mind: Starbase in South Padre Island, which requires crossing the channel.
Twitter user @Erdayastronaut explained why Musk would single out this area and distance. The tweet reads"One of SpaceX's biggest issues is attracting talent to work at Starbase, which is extremely remote. South Padre is a great place to live, but it's nearly an hour's drive from Starbase although it is only 5 miles from Starbase due to the navigation channel." A quick check of Google Maps shows what the user is describing.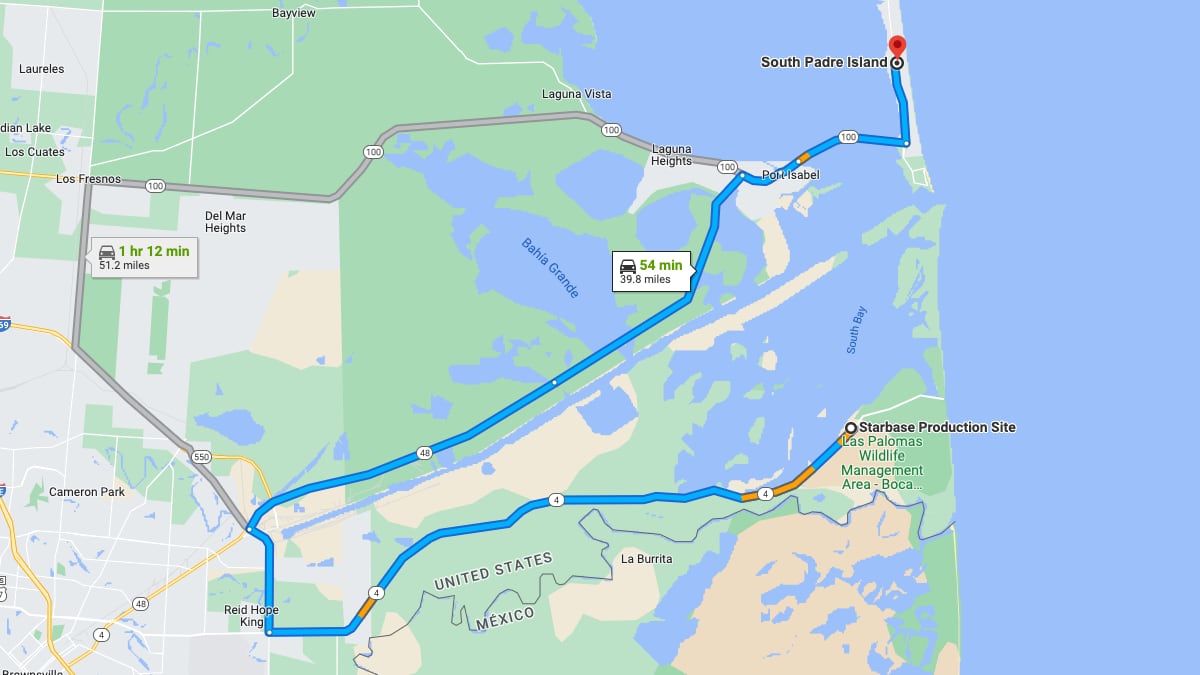 Musk's tweet also caught the attention of the Washington State Department of Natural Resources. Officials seem to be a bit concerned about the wording. The official account tweeted: Our derelict ship crews implore you to understand that anything that "briefly serves as a boat" should not be used as a boat.
CD Projekt RED also took notice of Musk's tweet, and the creators of Cyberpunk took the opportunity to show off two concepts of the Cybertruck as it would appear in Night City. Musk and Cyberpunk have had an ongoing relationship for several years. More recently, he demonstrated the power of the on-board computer gaming system by playing Cyberpunk in a Tesla. However, CD Projekt RED didn't mention if the Cybertruck in Cyberpunk would float.
Cyberpunk 2077 will be playable in the new Model S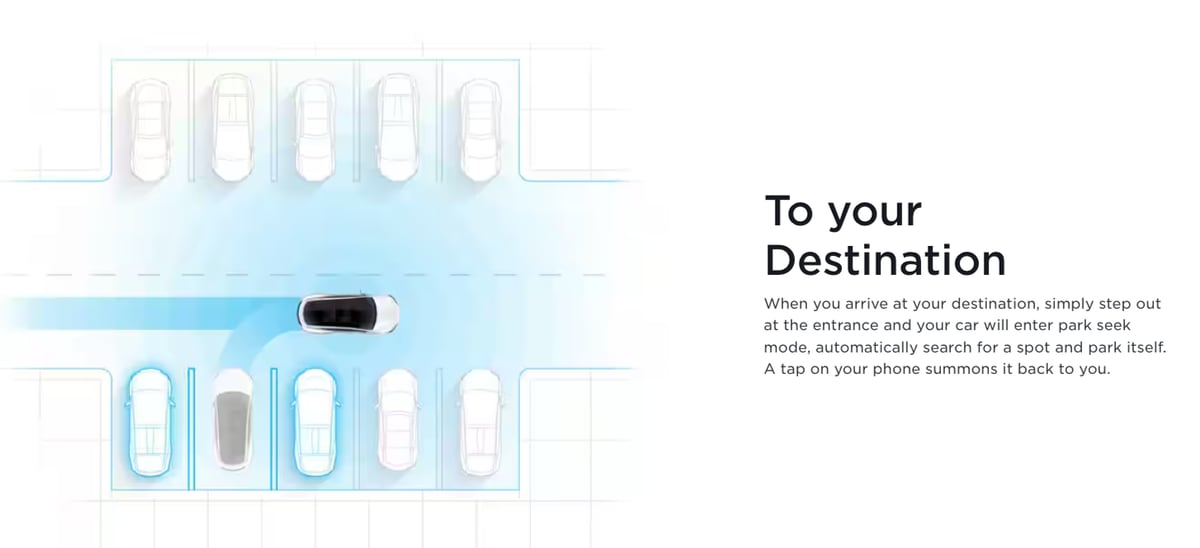 Tesla's Autopilot engineering team validates significant advancements in the Full Self-Driving Beta, including parking improvements. Although Smart Summon and Reverse Summon weren't specifically mentioned during the 3.5-hour AI Day 2022 event, parking lots were discussed and Elon Musk gave a timeline of expected improvements.
Reverse Summon or "Park Seek" as Tesla seems to call it, is the opposite of Smart Summon. While Smart Summon drives you from a parking spot, users who enable Reverse Summon would instruct their Tesla to drop them off at a location, perhaps closest to a mall entrance, and then find a spot parking. This feature was described by Musk July 1, 2020when he gave her a deadline of two to four months.
Ashok Elluswamy, Tesla's Autopilot program manager, kicked off the FSD portion of AI Day by saying, "The beta FSD software is fully capable of driving the car. He should be able to navigate from parking lot to parking lot, drive through city streets, stop at traffic lights and stop signs, negotiate with objects at intersections, make bends, etc.
Several team members described how FSD has progressed and will soon be an integrated stack, i.e. a codebase that includes everything the program needs to navigate the car in a parking lot or on a busy highway. Musk is currently using this new stack, "it works pretty well for me, but we need to validate it in all weather like heavy rain, snow, dust and make sure it performs better than the production stack on a wide range of environments.
Paril Jain, the autopilot movement planner, explained what will be included in the integrated stack: "We also plan to include the parking stack in the FSD stack before the end of this year. So this will basically have us sitting in the car in the parking lot and driving to the end of the lot, into a parking space, before the end of this year.
It was previously reported that Reverse Summon would have three different modes to find the parking spots the owner prefers. Methods would include closest to the entrance, near a carriage return, and at the end of the parking lot for those who like to avoid tight spots that cause door knocks. Musk said the built-in stack is on track for release before the end of the year and possibly as early as November.
Tesla has also updated its website to reflect this news, although no time frame is given. The Autopilot section of Tesla's site now has a section called "To Your Destination". The description reads: "When you arrive at your destination, simply exit at the entrance and your car will enter parking search mode, automatically search for a space and park. One tap on your phone will remind you."