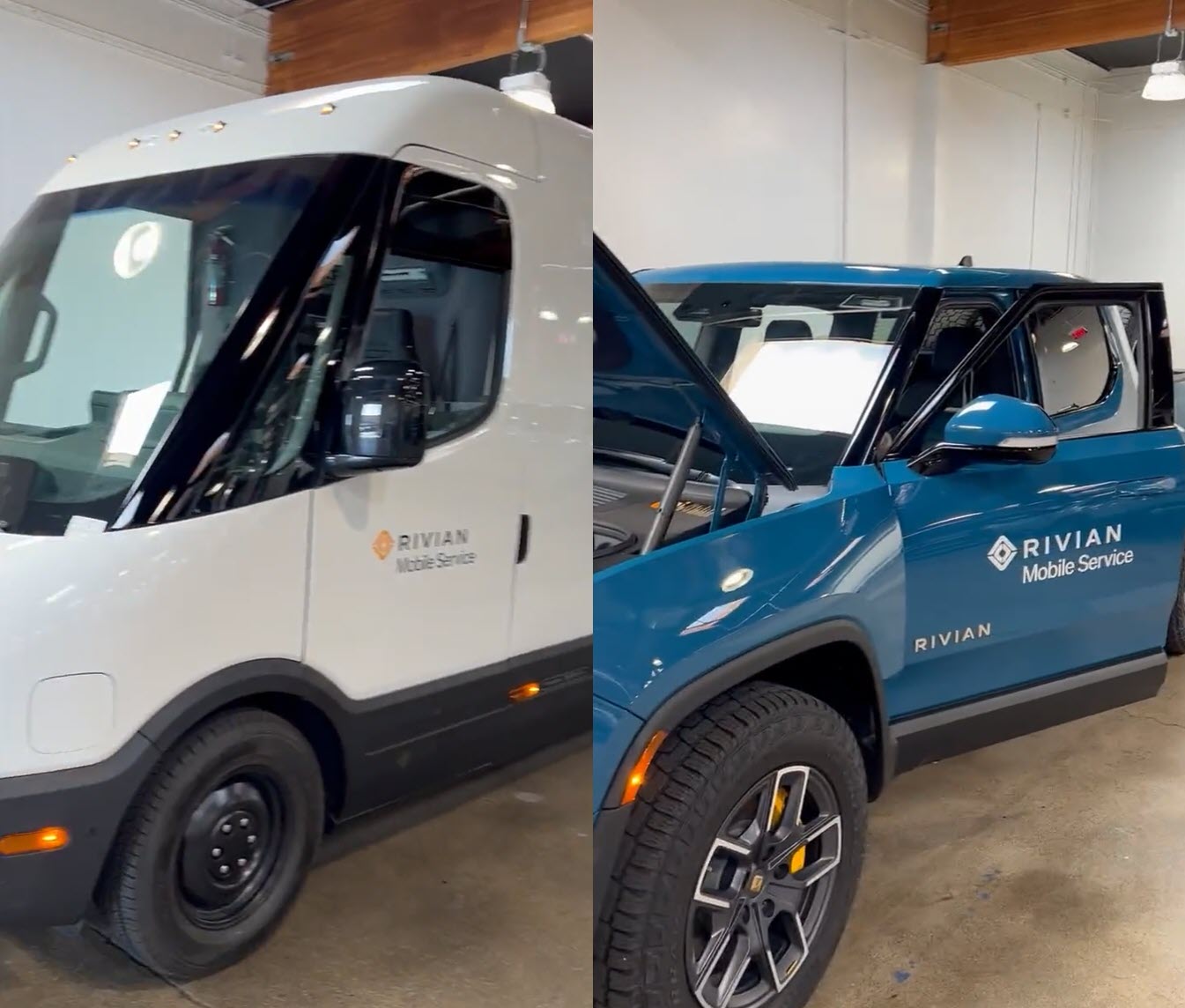 Rivian shares insight into mobile service vans and trucks [Video]
As Rivian increasingly delivers new R1T and R1S electric vehicles (EVs) to buyers, an important part of the customer experience is service. Today, Rivian shared a preview of its mobile service fleet that will be able to provide service to homeowners at home or on the road.
In a video shared by CEO RJ Scaringe, we see that their Rivian EDV (electric delivery van) which is currently used by Amazon has been converted for use as a mobile service van by Rivian technicians.
We also see how they use the R1T electric truck as a mobile service vehicle.
Rivian Service Van
Unlike Amazon vans, the Rivian mobile service van is painted in a cool white color. According to the video, they were developed in close partnership with Rivian technicians, allowing them to build it in the way that best suits their needs.
According to Phil, who tours the service van, the most commonly used tools are stored up front in the cab.
The large space in the back of the van is used to store the rest of the tools, as well as some specialized equipment, including even equipment to change tires on the road.
There is also a crane that allows technicians to lift heavy equipment, such as tire equipment, in and out of the vehicle. The crane also allows Rivian to move equipment inside the van to reconfigure it in the event of a change in service.
Ergonomics were also considered when developing the mobile service van with a rotating arm to store the jack and storage in the floor for heavy items that can be easily reached when standing outside the van .
Rivian Service Truck
Rivian will also use the R1T electric vans as mobile service vehicles.
The R1T's versatile gear tunnel is used to store a jack and kickstand, while the rear seats are used to store the tools needed by technicians to perform more common and routine repairs on the road.
Rivian has not yet officially delivered any vehicles to Canada, but it is close to reaching this milestone. The company has started hiring for its first service center in Vancouver and is also looking for someone to help customers with new vehicle registrations.
You can watch the full video below.
Our fleet of mobile services is growing! Our Service R1T and Rivian Service Vans are specially equipped to meet most service needs and designed to reach our customers wherever they are! pic.twitter.com/Eod3iD9PZa

— RJ Scaringe (@RJScaringe) September 19, 2022